Fandital is a full service, authorized J/Boat dealer based in Puerto Vallarta, Mexico.
Sailing for Life in Better Sailboats
Sailing is the ultimate freedom, the experience of being at one with nature and the sea, powered only by the wind and one's imagination. It's one of the few "life sports" that offers both a relaxing escape as well as an invigorating challenge. You pick your level of comfort and excitement. Sailing is never the same twice – each time on the water with your sailboat is a unique adventure that can enrich friendships, strengthen family ties, and refresh one's own sense of well-being. How many other outdoor activities can be shared with three or more family generations?  It's been said there are two types of sailors in the world – the young and the young-at-heart.
What a Difference a J Makes
Fulfilling those sailing dreams starts with finding a sailboat that fits you – whether you aspire to sail close to home, cruise to distant shores, or take up the challenge of competitive sailing. Performance differences between sailboats are greater than differences between golf clubs, tennis rackets, skis or cars. A well-designed sailboat, like a good sports car, is an extension of its owner. It could take years of sailing other boats to learn the difference that good design and quality make to one's sailing enjoyment. Or, you can save time and take advantage of what we've designed into every "J."
NEW 40′ Offshore Speedster for 5 or fewer Crew
The new J/121 is a 40' offshore speedster that can be day raced or distance sailed by just 5 or fewer crew…. the best short-handed J ever…. capable of winning on any race track while also excelling in daysailing and weekend mode. J/121 redefines offshore sailboat racing as a recreation and shared adventure with friends – fulfilling the growing need to simplify life and reconnect with those you really want to sail with on a boat that's pure magic to sail. Learn more about J/121 here.
Elegance, Comfort & Style – NEW J/112E
J/112E is the newest "E" Series of sport-cruising yachts.  An Evolution of Elegant performance cruising design. This dual- purpose 36 footer has a spacious two-cabin layout and a roomy, comfortable,  cockpit.  Perfect for the annual club cruise, offshore racing or short-handed blue-water sailing.  Learn about J/112E here.
A Family-friendly One-Design & Daysailer – J/88
The J/88 combines big boat feel with sportsboat-like acceleration.  Add a weekend interior, inboard head, engine and huge cockpit and you have a versatile 29 footer.  Blistering upwind speed of 6.5 kts and trailblazing speed offshore means smiles all around as you collect both the silverware and priceless sailing memories. Learn more about J/88 here.
J/99 – Offshore Shorthanded Speedster
The J/99 is the newest offshore speedster. It combines headroom and comfortable interior accommodation with the tiller-driven response of a sport boat. The sail and deck plan are optimized for easy handling with fewer crew. J/99 has garnered numerous awards; including British Yachting Awards- Performance Boat, SAIL Best Boats- Performance Boat, and SAILING WORLD Boat of the Year- Best Crossover Boat. Learn more about J/99 here.
J/70 – The Sportboat Changing Sailing
The J/70 speedster is a fun, fast, stable, 22 footer that can be towed behind a small SUV and ramp launched and rigged by two people.  J/70 sails upwind like her larger sibling (the J/80) and off the wind she simply flies – planing fast in moderate winds. With 1,300+ boats delivered worldwide, the choice is clear. Learn more about J/70 here.
J/World Sailing School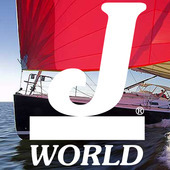 J/World Performance Sailing School has a busy upcoming season. Classes and adventures for sailors, cruisers and racers will be running at all locations, or maybe you would prefer private instruction or coaching on your own boat?
Special events include cruising adventures in the Sea of Cortez and Banderas Bay, one-design racing in San Diego and Puerto Vallarta, and offshore races in California, Mexico, and Hawaii.  Visit here for more info.
Upcoming Sailing Events
Feb 20-23- J/70 Midwinter Championship- Miami, FL
Mar 4-7- J/70 Bacardi Invitational- Miami, FL
Mar 5-8- St Maarten Heineken Regatta- Simpson Bay, Saint Maarten
Mar 5- Puerto Vallarta Race- San Diego, CA
Mar 6-8- St. Croix International Regatta- Christiansted, St. Croix, USVI
Mar 10- SORC Miami to Eleuthera Race- Miami, FL
Mar 17-21- St. Augustine Race Week- St. Augustine, FL
Mar 20-22- San Diego NOOD Regatta- San Diego, CA
Mar 26-29- St. Thomas International Regatta- St. Thomas, USVI
Mar 30- Apr1- BVI Spring Regatta- Road Town, Tortola, BVI
Apr 12-18- Les Voiles de St Barth Regatta- Gustavia, St Barthelemy
Apr 17-25- EDHEC J/80 Sailing Cup Regatta- Port du Crouesty, Arzon, France
Apr 23-26- Charleston Race Week- Charleston, SC
Apr 26- May 1- Antigua Sailing Week- English Harbour, Antigua, West Indies
May 15-17- Annapolis NOOD Regatta- Annapolis, MD
May 27-31- J/24 North American Championship- Blue Point, NY
Jun 11-14- Helga Cup Ladies J/70 Regatta- Hamburg, Germany
Jun 12-14- Chicago NOOD Regatta- Chicago, IL
Jun 20-21- J/70 East Coast Championship- Cape May, NJ
Jul 26-Aug 1- J/70 World Championship- Marina del Rey, CA
Better Sailboats for People Who Love Sailing!