About Us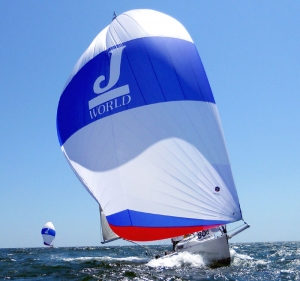 Fandital S.A de C.V. is a full-service authorized dealer for new J/Boats based in Puerto Vallarta, Mexico and serving the surrounding region. Fandital is a division of Deep Blue Acquisitions, along with J/World Performance Sailing School and Blue Element Yachting  We provide new boat sales to Mexican Nationals and foreigners looking to take delivery of their vessel internationally.  We can assist with all aspects of the acquisition cycle, from vessel selection and the initial order to commissioning and delivery of the yacht.
Our Location
Puerto Vallarta, our home base in Mexico, is nestled in a stunning bay  with outstanding sailing conditions and a wide range of marine services for yachtsmen.  It has become a very popular vacation destination, and a seasonal home to many foreigners.  Foreigners considering the purchase of a new vessel can often realize tremendous tax savings and/or benefits by taking possession of the vessel internationally.
J/Boats
For the team at J/Boats, the focus is on the joy of sailing.  All of the designs, from the smallest day-sailer up to the largest cruiser, put a premium on the sailing characteristics of the vessel.  Over four decades of designing and building sailing vessels has resulted in each J/Boat being a study in design evolution and refinement…  and sometimes, revolution: leaders in the shift towards asymmetrical spinnakers and sprit boats, J/Boats has changed the face of sailing for the foreseeable future.  For more on the 'sprit boat revolution' see this article.
The J/Boat Story
The story of J/Boats is a classic entrepreneurial tale: With a $20,000 investment, and a speedy 24-foot sailboat that Rod Johnstone built in his garage, Rod & his brother Bob Johnstone went into business. That was 1977. Now, that boat (the J/24), has become the most popular recreational offshore keelboat in the world. The Johnstone family has made an undeniable mark on the sailing world. In addition to the 5,400 J/24s cruising the waves, there are over 7,000 more J/Boats, ranging from the International J/22 to the J/65, that sailing enthusiasts have bought at prices ranging from $10,000 to $2,000,000.
While other manufacturers may sell more boats, the Johnstones have won the high-end, performance-oriented segment of the market. Theirs is the so-called racer/cruiser category: boats that perform well on the race course but which are comfortable and easy enough for the family to daysail and cruise. It is with knowledgeable, experienced sailors that the Johnstones have done best.
The story begins in 1975. Rod, then an ad salesman for the sailing trade magazine, Soundings, and an active one-design sailor decided to build a sailboat he had been designing since completing a Westlawn School of Yacht Design correspondence course in the 60's. With $400-worth of fiberglass and wood, some rigging and hardware left over from a Soling of Bob's, he built the 24′ x 9′ wide RAGTIME on weekends in his 3 car garage at his home in Stonington, Connecticut. During the summer of 1976, with an all family crew aboard, RAGTIME beat everything in sight. Rod realized he had created something special.
Enter Everett Pearson, the owner of Tillotson Pearson, Inc, a highly respected boat builder in Warren Rhode Island. He was quite taken with Rod's design and agreed to produce the boat on spec in return for the U.S. building rights. Display ads in Soundings got the word out. That winter they set up a makeshift factory in an old textile mill in nearby Fall River, Massachusetts, and began popping out J/24s.
Enter the marketing experience of brother Bob, a vice president of marketing at AMF/Alcort (the makers of Sunfish sailboats at the time). He saw the potential in the boat Rod had designed. From 1975 to 1977, Bob had helped to take Alcort from the red into the black, and then began trying to convince AMF to start producing a boat similar to the J/24. When AMF didn't jump, in February of 1977, at age 43, Bob did and threw in his lot with J/Boats.
With Rod contributing the design and his prototype 'Ragtime' and Bob investing $20,000 to cover start-up costs, office space, and advertising, their 50-50 partnership was launched. They sold 250+ (and delivered 136) J/24s that first year. Each successive year has marked unique achievements in the sport and industry.
The next generation of Johnstones has been at the helm since 1988, while founders Rod and Bob continue to contribute their talents. Since 1992, Jeff (president) & Alan (vice president & designer) have managed company operations from J/Boats Headquarters in Newport, RI while a total of six of Bob & Rod's sons (Jeff, Alan, Stu, Drake, Phil and Peter) serve on the J/Boats Board of Directors.